Wellington Florida Horse News
Serving Wellington and Palm Beach County Equestrians
Including Wellington, Boca Raton, Delray Beach, Boynton Beach, Loxahatchee, the Acreage, Royal Palm Beach, and Palm Beach Gardens, Floirda.
| | | |
Jul 7, 2015
Tryon International Equestrian Center Announces Four New August Hunter & Jumper Weeks
Tryon, NC


Tryon International Equestrian Center (TIEC) announces the addition of four consecutive weeks of competition spanning through the month of August in the newly added August Series. The August Series will commence on Wednesday, August 6, continuing through through August 30, hosting one FEI CSI 3* competition during the first week of the series (August 6-9) and three National Competitions.

August 1 - (6th-9th) - FEI CSI 3* $127,000 Grand Prix/Regional Hunters
August 2 - (13th-16th) - USEF Level 3 $25,000 Grand Prix/Regional Hunters
August 3 - (20th-23th) - USEF Level 3 $25,000 Grand Prix/Regional Hunters
August 4 - (27th-30th) - USEF Level 5 $50,000 Grand Prix/Regional Hunters More info...
Jun 16, 2015
Poll Recap: It's Hot Outside!
Jennifer Whittle
Summer is nearly here, (in Florida it is here) which means things are heating up quickly. While some horses and riders can handle high temperatures better than others, heat combined with humidity can take a toll on any pair. So where do you draw the line?
In last week's online poll, we asked our readers what temperature they consider it too warm to ride their horses. More than 1,450 people responded, and we've tallied the result
Of the 1,474 respondents, just over half (761) said they do not ride when it's warmer than 90°F, while 323 (22%) said they did not ride when its over 100°F. Another 274 individuals (19%) said they chose not to ride if the temperature is warmer than 80°F, and 73 respondents (5%) say they avoid riding in temperatures warmer than 110°F. The remaining 43 individuals (3%) chose "other." More info...
Jun 11, 2015
10 Hot Weather Horse Care Tips


Summer heat can be dangerous for horses, resulting in dehydration, lethargy, and general malaise. Severe heat stress can cause diarrhea, or even colic. But owners can take important steps to keep horses safe and comfortable during the hot days ahead.

In a release issued by Janet Johnston, DVM, Dipl. ACVIM, ACVS, an emergency critical care veterinarian at University of Pennsylvania School of Veterinary Medicine's New Bolton Center, suggested the following ten tips to keep your horse comfortable and safe in the summer heat. More info...
Jun 10, 2015
Jitterbug's Guide To A Happy Marriage
by Jitterbug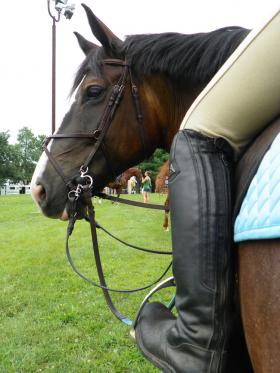 The day my Human bounded into the barn aisle with a glittery thing on her left hand (which turned out not to be a peppermint fragment, as it happened…oops) probably delivered the largest surprise of my week. I will never quite understand how I managed her through that relationship successfully, yet still can't get her to boost my hay ration to a first-world level. More info...